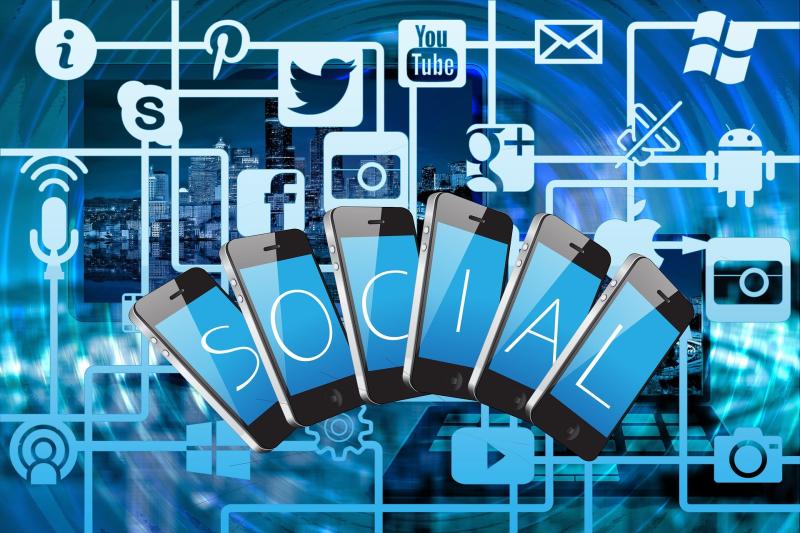 A strong social media presence can help you reach prospects, grow your audience, form meaningful relations with customers, and boost sales. It is key to building brand awareness, getting your message to the world, building industry authority, and reaching your goals.
Use this article to grow your social media agency and take your business to the next level.
SET CLEAR GOALS
The best way to grow your social media agency is to set clear goals. Know what you want to achieve from each platform and come up with a plan that will help you work towards your goal.
Consider your business purpose and audience when setting goals. What is your long-term goal? Who is your target audience? What are their needs? What are they expecting from you? And How can you offer practical solutions to common problems?
Make sure your short-term goals take you a step closer to your main goal. Set clear and attainable goals. 
Write down all the social media channels you use to market your business. Run a social media audit and identify areas that need improvement. Know what works and what doesn't. Identify platforms that have more engagement and ones that don't attract attention. Find out why your audience prefers certain channels over some. Come up with a strategy that allows you to attract the same attention on platforms that have low engagement.
Identify posts that have more likes, shares, and comments. Find out what attracted people to those posts and use the same strategy on ones that have less engagement. Answer key questions; "What is the main thing that draws people to your posts?" "Is it the catchy headline?" "Is it the content and the way it's presented?" "Is it the free offer that's advertised?" "Perhaps they are drawn to certain posts because of the choice of images used?" Whatever the reason, identify it and use the same method to upload posts that attract attention and get you more conversions. 
Know why you created business pages on specific channels, determine whether or not you've reached your goals, and take the necessary steps. For example, if you created a Facebook page to build brand awareness and grow your target audience, how far are you from reaching your goal? How many people know about your brand? And How many followers do you have? If your target was to have 500 followers in 3 months, have you reached your goal? If not, why and how can you ensure you reach your goal? Create an actionable plan that allows you to reach your set goal. For example, you can break down your main goal into daily, weekly, and monthly targets.
IMPROVE YOUR SOCIAL MEDIA PRESENCE
Your main goal is to reach your target audience and convert them into customers. The best way to achieve that is by having a strong social media presence. You want prospects to see how passionate you are about what you do. You want to show them that you can offer solutions to their problems. You want them to see how much you care about adding value to their lives and helping them meet their goals.
So, post regularly to attract your audience's attention and retain it. Create a schedule and stick to it. Study and understand each platform to identify the best times to post. For example, if you have a Facebook page, a Twitter account, an Instagram account, and a TikTok account, find out when your followers interact best with your posts on each platform and post during those times.
Understand that each platform has a different audience with different needs and come up with a content strategy that allows you to cater to various needs. 
To succeed, focus on uploading quality content that attracts attention and boosts engagement on every platform. 
Know the type of content that performs well on each social network and use the right format. For example, use eye-catching images on Instagram and more text on Twitter.
HAVE AN EFFECTIVE MARKETING PLAN
Your marketing plan determines how many people you reach, how many conversions you get, and how well your agency grows. So, come up with an effective marketing strategy to ensure success.
Determine how you are going to reach your target audience, retain your existing followers, and attract more people to each platform.
Use social listening to identify your audience's interests and share information they are interested in. Pay attention to the latest trends in your industry. Find out what your audience is talking about and be part of the conversation. 
Post or tweet about the latest industry trends and the latest news in your field. Become the ultimate source for particular information to attract attention and keep your followers interacting with your content. 
Build industry authority through your YouTube channel or blog. Share your best content on all social media platforms. Mention how each video or article is going to help your audience to ensure they click on your links.
Share promotional content to raise interest and get your followers talking about your brand. For example, talk about an upcoming online contest, discount promotion, and freebies. Keep your audience interested in what you are sharing and looking forward to what you will share next. 
Leverage content marketing and share valuable content that encourages shares, comments, and likes. Know your audience, identify their needs, and cater to them. Identify common problems and offer solutions. Learn about their recent challenges and help them mitigate them. 
Find out what your followers would like you to talk about next. Ask them to talk about their recent challenges in the comments section and mention the kind of information they wish they had easy access to. Provide the content they need and help them reach specified goals. 
The goal is to build trust, become the go-to person for particular information, keep your audience from going to the competition, and retain your followers.  
CONNECT WITH YOUR AUDIENCE
The most effective way to grow your social media agency and get a return on investment is to form meaningful relations with your existing audience. Connect with your followers and focus on getting them to prefer your brand over the competition. Doing this establishes trust and helps you turn followers into long-term customers.
So, show your followers that you are not only interested in building your brand but getting to know them better. 
Create an engaged online community to easily stay in touch with prospects and meet their needs. Monitor comments, send timely responses to inquiries and appreciate every comment to make users see how much you value them. Hit 'like' when someone leaves a positive comment. Respond professionally to negative comments or ignore them altogether. 
Join interesting and relevant discussions. Share your opinion and leave notable comments.
Identify groups relevant to your niche and join them to reach more people and attract them to your pages. Engage with other people's content to get them to interact with yours. Leave constructive comments to command attention and encourage users to visit your profiles. 
Answer industry-related questions on Quora, Reddit, or Stack Exchange to attract more people and get them to follow your social pages. Position yourself as a thought-leader in your field and make it easy for people to view your answers and trust what you are saying. 
Share your responses or talk about the interesting conversation you had on your social media platforms. Doing this shows prospects that you are an expert in your field and makes it easy for them to engage with the rest of your content. 
Ask notable questions on Q&A websites and business social pages time and again to boost interaction and keep the conversation going.
GROW YOUR AUDIENCE
Attract more people to your pages, grow your audience, and reach your goals. Target individuals who share similar interests with your audience or ones interested in products or services similar to yours. For example, if you sell workout equipment and use your social media agency to advertise to athletes or gym owners, target new moms as well. Mention how it's going to benefit them. Create attractive offers to command attention and get them to connect with your brand. 
Expand your reach and work with all kinds of people who may be interested in your services or products. For example, if you own a web design agency and mainly market to entrepreneurs or startups, consider corporates as well. Target big companies that don't have websites and advertise your services. 
Do enough research to understand who they are, what they do, and what they are aiming for. Find out how you can help them reach a specific goal and send your business proposal. Mention how having a website can help them build a strong brand image and set them apart from the competition. 
Do online research to study user behavior and find out what potential customers are searching for. Identify high-ranking keywords within your niche and incorporate them into your marketing material to reach a bigger audience, get more clicks, and attract sales. For example, if you have a blog and use content marketing to grow your audience and increase traffic to your social media pages, use high-ranking keywords within your niche in your content. 
Add the relevant keywords on your headlines and throughout your content to rank high on search engine results pages. Use meta titles and meta descriptions on your articles, videos, images, and other posts. Avoid keyword-stuffing because you can get penalized for it. Use your keywords strategically and make sure they fit seamlessly with your content.
Have a clear demographic and don't try to target everyone because that is how most businesses fail. Know who you want to reach to easily connect with them, identify their needs, and cater to them. 
Define your audience based on geographical location, age, profession, and interests. 
Once you have a clear picture of who you want to advertise to, focus on forming meaningful relations with them. When you gain their trust, build loyalty, and get them to constantly engage with your content, target more people in different areas but with the same interests. For example, let's say your initial goal when you started was to market your business to people in a specific location, consider other areas as well. If you only advertise to individuals or companies in Europe, for example, consider other continents as well. Find out whether there is a market demand for your services or products in specific regions, and expand your reach.
Search for businesses that offer services related to or similar to yours and study them. Know who you'll be competing with and come up with a strategy that will set you apart.
Create offers that appeal to your new audience to get them to follow your pages and turn them into buyers. Find out how you can add value to their lives. Identify common problems and offer practical solutions. Share helpful information that will bring value to their lives, help them reach their goals, and keep them talking about your brand.
FOCUS ON LEAD GENERATION
Social media is key to building brand awareness and connecting with your target audience. However, your main goal as a business is to attract sales. So, don't pay too much attention to getting more likes and shares. Focus more on attracting leads, nurturing them, and turning them into clients.
Use social media to get more leads and form meaningful relations with potential customers so they can easily do business with you once you start advertising. 
Come up with an effective strategy to attract prospects. Target people who are already interested in your offers, identify their needs and cater to them. 
Use live video streaming to attract attention, boost engagement, and get more people to engage with your pages. 
Host an event that your audience will be interested in attending. Interview thought-leaders, influencers, or someone who has already achieved what your followers are aiming for. Make the event memorable and leave a lasting impression on your audience's minds. 
Look for ways to keep your audience engaged throughout the event. Identify their pain points and use your event to cater to their needs. For example, if you market to freelancers and small businesses, give them valuable insights on launching their startups and growing their businesses. Interview a successful solopreneur, a social media influencer, or a business coach. Choose someone with a good reputation. Someone well-known in the industry or an individual who has a decent number of followers.
Make sure the interviewee has a strong online presence and high engagement. 
Keep the interview lively and know the right questions to ask. Encourage users to ask any question they have and keep it relevant to the discussion. 
The goal is to boost engagement and get people to favor your content.
Promote your event to your existing social media followers, email subscribers, and on your website. 
Host live contests, Q&A sessions, or offer customer support in real-time. For example, if you recently launched a new product, go live and answer any questions customers may have about your product. People love and prefer videos, so take advantage of that.
Host your event on the right platform to see the desired results. Pick a platform that has a bigger audience and high engagement. 
Use gated content to attract more people and get more leads. 
Gated content is when you give users access to certain content only when they take a specific action, such as signing up to your mailing list or sharing your social media page or post. 
This is one of the most effective ways to attract leads and retain your followers. Just make sure the offer is worth the exchange. That means your gated content has to be valuable and worth your audience's time. 
Use an eye-catching image and a compelling call to action when advertising your gated content to get people to take the desired action. 
Make sure users know what they will benefit from taking that particular step. Convince them to act. Highlight at least 3 things they'll get from your newsletter if you want them to join your mailing list. If you want them to share certain posts, pages, or articles before downloading an eBook, mention how the eBook will help them. What sort of information will they find? And how is it going to benefit them?
Other effective ways to generate leads and grow your agency are social media paid ads, geotargeting, referral campaigns, and attractive lead magnets.
BUILD A PORTFOLIO
Have an online portfolio for social proof, to attract a bigger audience, and make it easy for people to engage with your brand. 
Show that you are an expert in your field and have a lot of experience in your industry. Share proof of work on your website. Add a 'Portfolio' section or share some of the best projects you've recently worked on, on your landing page. Make it easy for potential customers to trust and choose your brand. 
Add your website URL on your social media pages and encourage users to view your latest work.
Add client testimonials on your website homepage, add customer ratings and reviews on your site, social media profiles, and GMB account. 
Share customer experiences on your social pages and encourage prospects to do business with you. 
Use your blog to bring value to customers' lives, boost engagement, and get them to interact with your social media pages.
Curate interesting and helpful content to pique interest and increase your readership. Incorporate high-quality images, use catchy headlines, and structure your content right. For example, use clear and simple language and short paragraphs.
Share different types of content to capture attention and retain it. For example, long-form content, short-form content, listicles, how-to guides, quizzes, infographics, and comparison articles. 
Add social media buttons to make it easy for your readers to share articles that interest them with their contacts. 
Feature some of your interesting or viral articles on your social media pages. Add a link to your post to make it easy for users to access the rest of your content in one simple step.  
BONUS
Schedule and automate your social media posts with Buffer, Hootsuite, BuzzSumo, or Sprout Social. Doing this helps you publish regular content, build an engaged community, and save time.