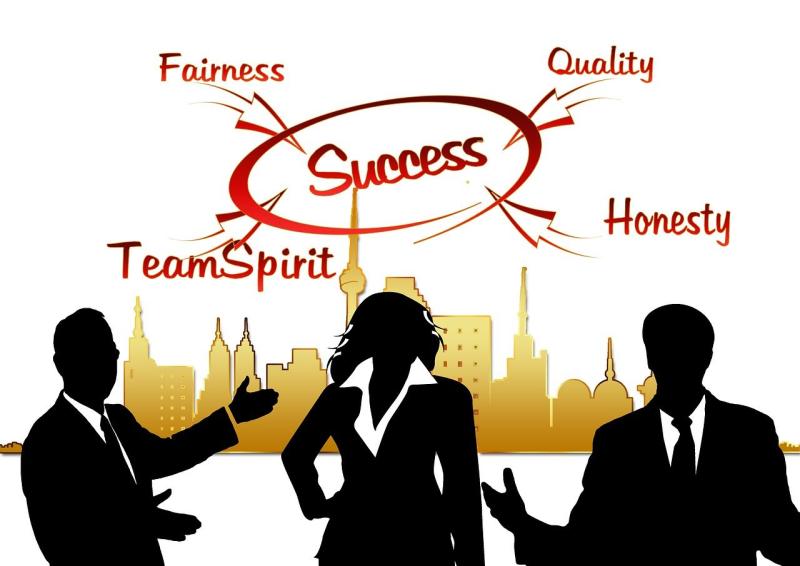 Gaining clarity in business is key to understanding your brand, communicating effectively, and reaching your goals.
If you don't know where you want to go and what you want to accomplish, convincing prospects to engage in business with you will be difficult.
You have to understand who you are, where you are going, and what you want to achieve to get people to trust your brand.
Your customers and employees need to see that you are confident and passionate about what you do. That is the only way to gain trust, inspire employee productivity, and excel.
Use the following tips to gain clarity in business, move your organization in the right direction, and ensure success.
CLARIFY YOUR PURPOSE
The only way to succeed is to have a purpose. So, what is your business purpose? Why did you launch your startup? Know why you chose the line of business you're in.
Identify the main reason you chose to venture into that particular niche to ensure success. Align purpose to your business to ensure you work towards it daily, stay on track, avoid distractions, and make good decisions. If you know what you stand for, who you are, and what you want to accomplish, you will never go off-track.
Every decision you make and each step you take will be in line with your purpose. It will get you a step closer to fulfilling your vision and taking your business to the next level.
Make sure your employees understand your ultimate aim and work towards it every day. 
Once you clarify your purpose, create your mission statement to keep your vision in sight and attract potential customers.
Your mission statement reminds you of who you are, makes it easy for employees to understand where the company is headed and is key to attracting prospects and getting them interested in learning more about your business. So, come up with one that makes it easy for people to understand who you are, what you represent, and what they will benefit from choosing your brand.
Keep your mission statement short and persuasive. Mention who you are targeting and add the main thing that prospects will benefit from your work. Some great mission statements to gain inspiration from are; 'To empower every person and every organization on the planet to achieve more' by Microsoft and 'To bring inspiration and innovation to every athlete in the world' by Nike. 
Next, understand what you do. Know your brand and understand your product or service to make it easy for prospects to work with you and trust you'll deliver. Answer key questions; "What is our main offer?" "What sort of value does it bring to customers' lives?" And "How is it different from the competition?"
DEFINE YOUR GOALS
Define your goals to know the right steps to take and bring your vision to life. Answer key questions; "What do you want to accomplish as an organization?" And "What does success look like to you?"
Break down your main goal into manageable ones to stay motivated and ensure success. Set short-term and long-term goals for each department. For example, the research department, the production department, the marketing department, and the sales department.
Make sure each team understands what they are meant to accomplish daily, weekly, monthly, quarterly, and yearly. Provide the resources needed to help your employees work effectively and reach set goals. 
Set goals for every project you get to ensure success. For example, when you get a new project, write down what you want to achieve, the people involved, and the steps to take to get to your goal.
Understand what the client wants and determine how long it's going to take you to finish the work. Specify which department is going to handle certain tasks and get involved throughout the project. Make sure your staff understands their different roles. 
Set deadlines and make sure everyone is aware of them. Document everything. Create a point of reference to make it easy for your team to carry out tasks and meet deadlines.
SET SMART SALES GOALS
Making money is one thing all businesses have in common. You want to see ROI from your marketing efforts and other processes you invest resources into.
You want to know that the work you do is significant and you are on the right track towards bringing your vision to life. The best way to achieve that is to set smart sales goals because it's all about sales.
Determine how much you want to make yearly and work backward to make it easy for your sales team to reach their goals. For example, if you want your reps to bring in $30000 in sales this year, break it down into smaller attainable goals. Set monthly and weekly goals. Aim for $2500 monthly and $625 weekly.
Encourage your reps even further by asking them to bring in at least 3 customers daily. The more they reach set goals the more confident they'll be to do their work. So, use small, attainable goals to build confidence and keep them inspired. 
Set S.M.A.R.T goals to make it easy for employees to do their work and ensure results. For instance, if you use cold calling to reach prospects and want your team to make 100 calls daily, determine whether it's feasible or not. For example, do you have enough people to reach your target? And If they were to make 100 calls daily, will they manage to carry out other responsibilities as well? 
S.M.A.R.T goals enable you to work effectively, remind you that your main aim is attainable, and keep everyone motivated.
KNOW YOUR CUSTOMERS
Knowing your customers is as important as clarifying your purpose and setting clear goals. So, know who you are targeting, understand their needs and cater to them.
Answer key questions; "Who is your customer?" "What do they want?" And "How can you provide for their needs?" Define your target audience and market to them. Consider your niche or main business offer and advertise to people who are interested in what you are selling. Doing this helps you focus on a targeted audience, increases your chances of success, and ensures a return on investment.
Once you define your audience, connect with them, analyze their behavior, and give them an offer they can't refuse. 
Use Google Search and social media to identify customer needs. Know their recent challenges or common problems and offer solutions. 
Create business profiles on platforms that your potential customers prefer to get more leads and convert them into buyers. For example, if your target audience enjoys videos, start a YouTube channel and create a Facebook page. If they prefer photos, use Instagram or Pinterest.
The goal is to choose social media channels that will help you reach prospects, boost engagement, form meaningful relations, grow your followership, and increase your conversion rates. 
Aim to add value to their lives to get them to interact with your brand and convince them to do business with you.
When you define your audience and identify their needs, determine how you are going to advertise your business. Create an effective marketing strategy that will help you reach prospects, nurture leads, grow your audience, and enhance sales. 
Use social media to learn more about your customers and provide practical solutions to their problems. 
Stay in touch with every client you get to promote new products, form meaningful relations, and turn them into long-term customers. 
Use content marketing and email marketing to form effective communication channels, build trust, boost customer engagement, establish relations, know your customers, and help your audience understand your business better.  
DEVELOP YOUR VALUE PROPOSITION
Develop your value proposition to attract leads and outshine your competitors. Identify at least one thing that's unique about you and use it to grow.
Know what sets you apart from the competition and highlight it in your promotional content and other marketing materials. Identify your value proposition to understand what you do, where you are, what you can accomplish, and how far you can go.
Find one thing that's unique about you and use it to maintain your brand's reputation, grow your customer base, and achieve business excellence.
Answer key questions; "What sets you apart from the competition?" And "Why do people love your brand?" Do customers prefer doing business with you because of your exceptional customer service? Do they choose you because of the quality of your product? Perhaps they favor your brand because you offer simple, effective, and timely solutions to their problems?
Whatever your strong point, identify and capitalize on it. Your value proposition should be something that the competition isn't offering. It could be a new product, a particular service, timely services, or access to resources that are helpful to your audience. Offer something that will benefit buyers in some way. Find out how you can add extra value to their lives to convince them that your offer is better than the competition. 
A few things to keep in mind when writing your value proposition are your customers, your product, the value that your offer brings, and the competition.
Identify your clients' main challenge or problem and determine how you can provide the perfect solution with your product or service. If you need to improve your offer to meet customer needs, do it. Bear in mind that at the end of the day, it's about your customers and what they want. So, give them what they want.
Create an offer that appeals to their needs. The kind that piques interest and is difficult to turn down.Highlight the value that your product or service brings and add it to your promotional content. Mention all the benefits that prospects will receive from picking your brand.
Consider your competitors. What sets them apart? What are their strengths? Is their value proposition similar to yours? If YES, find ways to improve yours and make it more appealing to your audience. Conduct enough research to understand your competitor's value proposition and differentiate yourself as the preferred provider for a specific service, product, or value.
Create a unique value proposition for different buyer personas to meet people at their points of need and increase your conversion rates. 
Implement the best practices to ensure success. For example, use clear language that your audience understands. Highlight what your customers can expect, specify the value that your offer brings or the problem you solve, and mention how it's different from everything else they've ever tried.
KNOW YOUR WEAKNESSES
Know your weaknesses as an organization and find out how you can work through them. Identify where you are lacking and come up with ways to improve. Focus on your systems, processes, and employees. What systems do you have in place? Are they functional? Do they allow you to meet your goals? What can be improved?
If you realize that certain systems aren't as effective as you want them to be, make the necessary changes. Improve them or implement new ones. Get rid of things that can't be improved and find alternative solutions. For example, if employees are always complaining about losing their data because the on-site server is malfunctioning, switch to a cloud-hosted server like Amazon Web Services AWS.  
Consider every department and identify its weaknesses. Focus on the production department, the marketing department, the HR department, the sales department, the financial department, the IT department, and so on. What are their strong points? Where are they lacking? And How can you help them improve and ensure progress? 
Hold weekly and monthly meetings to monitor progress and learn more about your team's challenges. Encourage everyone to voice their opinion, give updates, and highlight the challenges they are facing. Provide solutions and make it easy for your employees to work and reach set goals. 
Provide the required resources to increase productivity and ensure progress. If you have to invest money into some of the processes, do it. If workers need more time to carry out certain tasks, ensure that happens. Use automation software to ensure they spend less time on repetitive tasks and focus more on difficult ones.  Train your staff to ensure they understand their roles and are comfortable carrying them out. Especially when you create a new department or buy new software that everyone is expected to use. 
Constantly monitor your processes and business systems to ensure you stay on track and continue working towards your goal.
INVEST IN THE FUTURE
Plan and invest in the future to ensure growth. Since you already have a clear picture of who you are, what you do, and what you want to accomplish, focus on growing your business and bringing your vision to life. Specify where you want to be, 10 years from now, and make sure every decision you make and each step you take leads you to your desired destination.
Prepare for business growth and build resources to ensure your organization scales as customer needs evolve. Make sure you are prepared to handle different customer needs, provide quality services despite the number of requests you receive daily, deliver timely services, hire more employees when there is a need, and open new branches in multiple locations. 
Build resources to prepare for future growth and position yourself for success. Estimate how much money you'll need to run your business once you acquire more customers and hire new employees. Look for ways to raise the money and ensure you have enough to scale your business. For example, pick a side hustle or invest in properties or cryptocurrency. 
Understand business growth challenges and overcome them. Identify things that can hinder your growth and make it difficult for you to reach your goals. For example, obstacles, uncertainties, new competitors, and so on. Identify risks that are likely to occur when you take certain steps and prepare for them. Determine if you can avoid them, eliminate them, or minimize their impact. 
React quickly to opportunities and seize them as they come. Make sure you weigh the associated risks and rewards with every opportunity you get and every project you work on. 
If the rewards outweigh the risks, seize the opportunity. If the risks are not worth the investment, move on to something else.The goal is to ensure you only take steps that have a positive impact on your goal. Steps that will help you invest your time and other resources into things that will keep you moving forward.
Expect new competitors because everyone will want to compete with you as your business grows. Determine how you are going to handle new competition, get prospects to prefer your product, retain your customers, and continue to grow. You may need to change or improve some of your strategies to succeed. For example, your marketing strategy.
BONUS
Study and know the competition but don't copy them. Be unique, find your voice, and focus on constantly improving your product. Doing this allows you to progress, keep your eye on your vision, meet evolving customer needs, and reach your overall goals.